David Cronenberg Talks About Casting Robert Pattinson + An Oscar-Qualifying Run For 'Maps To The Stars'
You've got to love David and his love for Rob. He spoke to
The Hollywood Reporter
at NYFF over the weekend and spoke about how he had no problem looking past Rob's Twilight past when casting him and Thank God for us he did.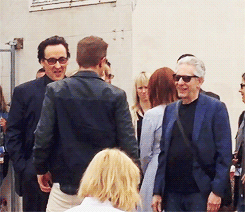 "David Cronenberg's Hollywood-centered family melodrama Maps to the Stars marks the veteran director's second straight film with Twilight alum Robert Pattinson after 2012's Cosmopolis.

Although many still see Pattinson as vampire heartthrob Edward Cullen, Cronenberg told The Hollywood Reporter he can easily look past that.

"I have no problem ignoring that," the director said. "Of course I watched the first Twilight movie just to see what he was like and get a feel for his screen presence and so on and so on. … By the time you're on the set, it's just the two of you making movies. You forget your own movies too."

Speaking to THR ahead of Saturday night's New York Film Festival screening of Maps, Cronenberg explained that he wanted to work with Pattinson (who wasn't in attendance at the New York event) on this movie not only because the director thinks of him as "a wonderful actor" and they "had a good time on Cosmopolis," but also because it provided the opportunity for Pattinson to participate in the sort of ensemble film he'd told Cronenberg he wanted to do.

"He told me that he was scared about Cosmopolis because he had not really wanted to do a movie where he was the lead and had the whole movie on his shoulders," the director explained. "And of course in that movie he's in almost every scene. He said, 'One day I'd love to do an ensemble piece where there are a lot of good actors and [he's] just one of them.' "

When Cronenberg was putting together Maps, he thought of his Cosmopolis star."
Read More over at
The Hollywood Reporter
ALSO some fantastic news about
Maps To The Stars
. While chatting to
Vulture
David revealed that Maps would be getting an Oscar-qualifying run.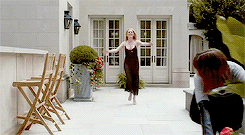 " "They're going to do a qualifying run — I think it's in New York and L.A. — so that it will legitimately qualify for the Golden Globes and the Oscars," said Cronenberg, who admitted, "There was a lot of discussion. You know, they really felt that they could do a better job releasing the film in 2015, in January or February. And then, of course, the discussion was, 'Yeah, but wouldn't it be great if Julianne got an Oscar nomination, since she won Best Actress at Cannes?'"

A strong recent showing at the Toronto Film Festival convinced Focus World to put the film out this year, though the distributor hasn't committed to funding a costly Oscar campaign. "You know, I think the movie will find its way regardless," said Maps screenwriter Bruce Wagner. "It already has." "
Want to see some Exclusive Photos and Video from the Maps to the Stars Q&A At NYFF?
Check it out HERE