Some New Set Pics for you ;-)
Smile you're on candid camera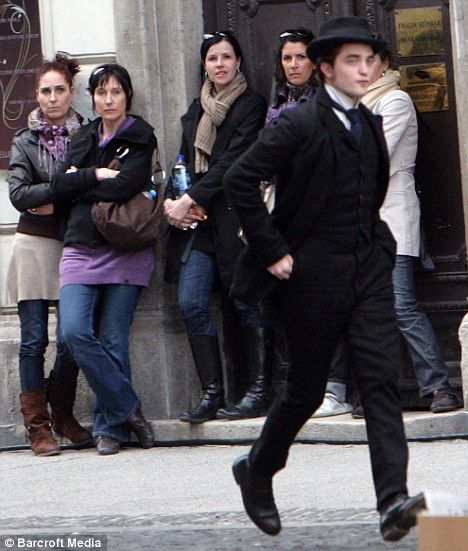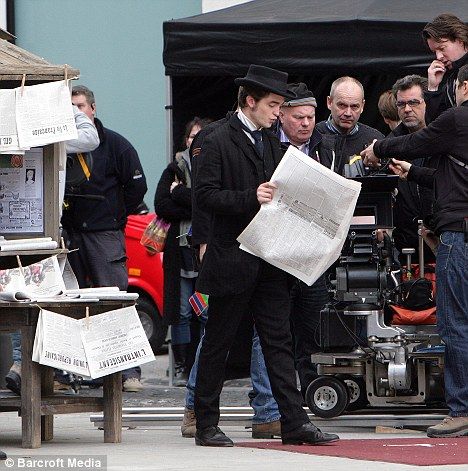 From
DailyMail.co.uk
Even in a bowler hat and period dress, there is no mistaking the chiselled jaw of Twilight star Robert Pattinson.
(Kate: No there isn't!)
But while the vampire series which made his name attracts a mostly teenage audience, his latest role is aimed at a more adult audience.
(Kate: Yipee)
In Bel Ami the 23-year-old plays 'totally amoral' journalist Georges Duroy, who rises to the top by manipulating a series of powerful and wealthy mistresses.
The film sees Pattinson's character take part in an orgy.
The racy scenes were shot at the Grade 1-listed Crossness Pumping Station in London, originally a sewage works.
Kent News reported a source saying: 'It will be tastefully done with lots of candlelight and lace, but it will be the sexiest thing Robert's ever been seen in and will get his female fans even more excited.'
(Kate: If we're anymore excited we'll explode.)
Co-star Natalia Tena - who co-starred with Pattinson in Harry Potter And The Order Of The Phoenix - spoke about the film's nudity, writing on her MySpace page: 'I start Bel Ami in less than two weeks, slightly nervous especially seeing as you'll see my naked cleavage.'
(Kate: Natalia if you don't think you can't cope with that I'll gladly do it for you. You can email me at the address in the sidebar. I can be there at a moments notice!)
Pattinson is currently filming the adaptation of Guy de Maupassant's short story in Budapest, following two months of shooting in London.
The movie is an adaptation of the 1885 novel about a peasant-born former soldier who becomes a journalist in Paris and climbs the social ladder through a series of affairs with well-connected women.
It also stars Uma Thurman, Christina Ricci and Kristen Scott Thomas.