Click on the scans to see them larger
Nova Magazine
15th Feb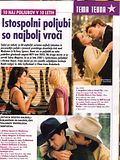 10 Best Kisses of the Decade / Same sex kisses are the hottest
4. Robert Pattinson and Kristen Stewart, Twilight 2008
Nova Magazine
22nd Feb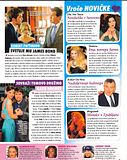 Robert Pattinson gets advice from James Bond
Former James Bond Pierce Brosnan is giving advice to young costar on how to handle fame. They worked together on the movie Remember Me which premieres in American movie theatres in the beginning of April
(Kate: Should be March of course)
On his work with famous actor the star of vampire movies talked with the Vogue magazine.
Darja didn't translate the rest on the interview, since people can read about it in the original magazine, Vogue, it's the story about their lunch together, people were watching, Pierce introduced himself.... and the part where Rob states his opinion on Twitter and Facebook.
Stop Magazine
24th Feb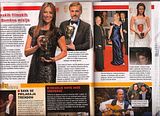 BAFTAs,
Kristen was celebrating her award and paparazzi followed her when she left the show with colleague Robert Pattinson.
Lady Magazine
24th Feb
(Kate: Ok I think this magazine needs to keep a bit more up to date)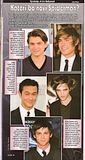 Who will be the new Spiderman?
We doubt Robert Pattinson will accept the role after he had to be vampire Edward in four times. He's most annoyed by fans who think he is a vampire in real life. How crazy will his fans go if they think he is a superhero?
Big Thanks to Darja for scanning and translating these for us !