Sunday Mail UK Claims Robert Pattinson is Doing a Bunch of Things including selling his pad in Canada (he has a pad in Canada? Fail Sunday Mail, you FAIL), splitting from Kristen Stewart and hanging out with a pretty red head (pictured below)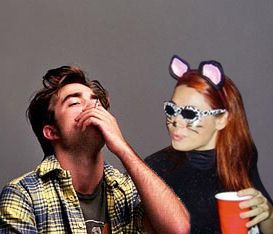 The same red head was later seen with
Alexander Skarsgard
AND Robert Pattinson, she sure gets around! (
or has friends that are good at photoshop
:))
Sunday Mail (UK) – 21st Feb 2010
Robert's Twilight hours with mystery redhead
Twilight heart-throb Robert Pattinson has put his home in Canada on the market and plans to move back to London amid rumours that he has split from co-star Kristen Stewart.
The couple have always remained tight-lipped about their romance but LA-born Kristen, 19, set tongues wagging when she was photographed with Sean Penn in Hollywood earlier this month. Meantime, Robert, 23, has been partying in London with a mystery redhead.
"Rob plans to ditch his Canadian pad" says a mole. "in London, he feels he can be normal. He's been going to dinner parties and pubs with his mates, just like old times. He doesn't want a Hollywood girlfriend and he hasn't spoken about Kristen for a while so we think that's off".
The couple are due to attend tonight's Baftas ceremony. But a close friend of Robert confides "He's been spending time with a very pretty redhead. They hang out in the Macbeth pub in Hoxton and at the Notting Hill Arts Club. Rob wears a black woolly hat and a beard as a disguise.(
Gozde: They make him sound like a caricature, wearing a beard as a disguise? I think he should wear one of those glasses that comes with a big nose and mustache. Now THAT would be a good disguise!
). He got very agitated once when a fan recognized him and asked for a picture!
Thanks to Carole for typing this out for us :)
Obligatory P.S: The pictures are obviously photoshopped :) The mystery read head in the picture is one of us. It wasn't published in the Sunday Mail.