I'm using this gorgeous pic because it's Rob in a suit (again) and that's what we'll be seeing tomorrow night and I'm SO excited!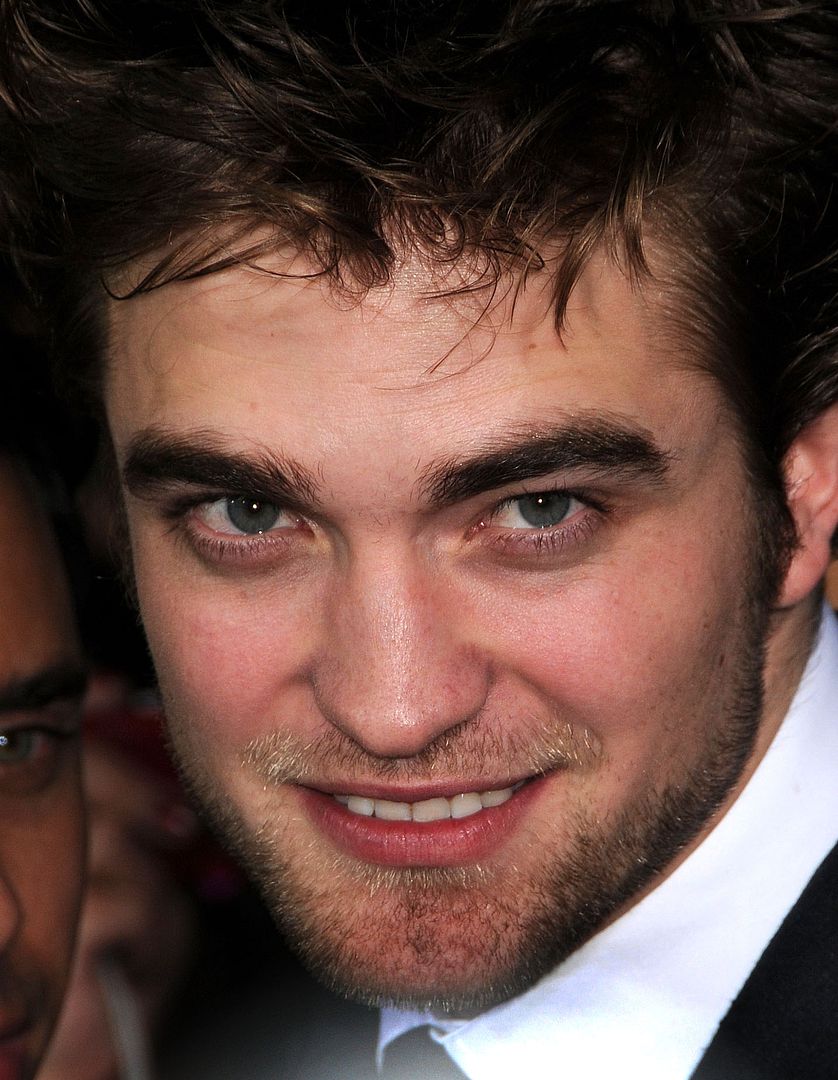 Photo Credit:
LFI
@patrickstoner Interviewing Robert Pattinson for Remember Me in a few minutes--shows a wider range of acting in it, with a James Dean style. #r-patz
@patrickstoner I asked Rob Pattinson if he ad trouble finding the insecurity needed for role; he said, "Oh, Pat, I think I'm 95 % insecure." #r-patz
@patrickstoner Rob Pattinson's costar (Remember Me), Emily de Raven, says the paparzzi were so intrusive on location that they created a shell around them
@iamBenLyons Thank you all for the Rob Pattinson questions. Great stuff, I really appreciate it. Be sure to watch @THEDAILY10 tomorrow to see the intvw
@iamBenLyons @Rob_Tyler_RM yeah I have interviewed him many times over the years...nice dude and seems to handle the "crazy" part of his job just fine...
@mannymovies Had great interviews with REMEMBER ME folks...Robert Pattinson is a sweetheart...for risk of sounding like a tween... http://bit.ly/bsGWv4
@mannymovies REMEMBER ME is a tragic love story told on an unforgettable backdrop...I'm now a fan of Robert Pattinson...I resisted but alas...
@patrickstoner Brosnan says the conflict scenes with Pattinson in Remember Me were carefully pre-prepared so they could do them in short takes. #r-patz
@stayfabulous #RememberMe was incredible, lovely story, beautifully acted and by the end I was sobbing uncontrollably! Two thumbs up!!
@stayfabulous Robert was wearing a white t-shirt, jeans ,his hair was perfectly tousled and he kept running his hands thru it during the interview..lovely
@colliderfrosty At the remember me junket. Just got something rob fans will like. Getting ready to post before interviews
@SharonFJohnson I'm about to interview Robert Pattinson for "Remember Me." I don't think we will chat about Kristen Stewart. None of my business.
@patrickstoner Rob says it took a while to blank out the constant exposure but he's now learned the mental trick and can ignore the madness. #r-patz
@andreamineocnn Waiting to interview Pierce Brosnan at 'Remember Me' junket R. #Pattinson will follow
@andreamineocnn R #Patz just walked by his hair was sticking straight up - looked good
@stayfabulous When I asked Robert Pattinson about doing double duty as star and exec producer of #RememberMe & if he's a "good boss". He said...
@SharonFJohnson I just intv'd Robert Pattinson 4 "Remember Me." He's a fantastic intv. Once he knew I cared about the film he gave me all needed. Nice guy!
@andreamineocnn Walking into R. #Pattinson's room for intvu right now...
@stayfabulous He laughed (adorable) ran fingers thru his hair (dreamy) and said..."He didn't fancy himself a proper boss".still laughing (still adorable)
@SharonFJohnson He is very real, smart and yes handsome. RT @jvanr1708: @SharonFJohnson can you please tell me if he is more breathe taking in person?
@SharonFJohnson I really have no idea. He's always breathing. Does that help? RT @TwiSagaReality: @SharonFJohnson Is it true that he's always thinking? :P
@andreamineocnn Just out R#Patz so sweet says he hasn't seen any of 'Eclipse' but will be different b/c of director
@colliderfrosty Still doing interviews. Will make sure clips are running good soon. Just spoke to rob. Got some good questions in. Fans will like
@andreamineocnn asked R #Patz : tell me something about yourself that fans don't know He couldn't.
@andreamineocnn #Patz says really doesn't watch his own work only watched F Moon b/c he wasn't in it alot
@iamBenLyons Rob told me if he could visit any country in the world that he hasn't been to, it would be Fiji...and that he reads his fan mail!
@ga_brielle Saw Remember Me last night. Must see. Do not read reviews just go see it. Breathtaking. Also did roundtables today with Rob, Emilie, etc.
@ga_brielle @fevireyes Rob smelled amazing. lol the BO rumors are false
@ga_brielle Photo of Rob and I at interview. (I'm in the black) Stay tuned for when interview is posted! http://tinyurl.com/y8kzny6
@andreamineocnn Before intvu #Patz asked me how I was dealing with all the New York snow. Sweet