It's like playing where's Waldo? FUN! Keep reading till the end for an update on RobBeard :)
Thanks to Sleeper:
@snailsurf Just saw robert pattinson at @NationalTheatre! Strange...
@marcusfoster1 went to the theatre last night and saw a very strange play.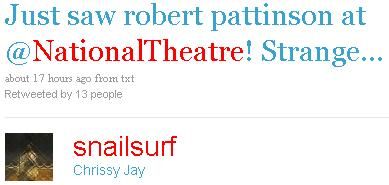 www.nationaltheatre.org.uk
program 6 February, Saturday:
Really Old, Like Forty Five - Tamsin Oglesby's furious comedy confronts head-on our embarrassment and fear about old age.
The Pitmen Painters - Lee Hall's new play is a humorous, deeply moving and timely look at art, class and politics.
(Every Good Boy Deserves Favour - a play for actors and orchestra. A dissident is locked up in an asylum. If he accepts that he was ill, has been treated and is now cured, he will be released. Tom Stoppard and André Previn's darkly funny and provocative play asks if denying the truth is a price worth paying for liberty.)
As for RobBeard:
We told you that Robert Pattinson was spotted at
Groucho Club Friday night
. Now we have some more info. First of all
Jayne Sharp
tells us that she tweeted his location AFTER he left the club, that she wouldn't tweet a celebrities location and put them at risk. She also told us that she underestimated the power of twitter :) Welcome to the club Jayne. Twitter can be evil...but it's so much fun :)
Here's our "conversation":
Gozde: Can you tell us a bit more about Saturday night?
Jayne:
He was wearing a beanie hat & was also a complete gentleman.He stopped at the bottom of the stairs so I could walk down.
He said 'after you' I said 'thank you' he said 'you're welcome'
Gozde: So was Tom Stu there with him? ('cause I know y'all are dying to know if the Bromance is still on :P)
Jayne:
To be honest I didn't really pay much attention to his crew. He certainly didn't have a full on thick beard
but it was too dark to tell if he was clean shaven
.
(Gozde: Well I think she would have noticed the thick beard :))
Gozde: Was he wearing the heart shaped necklace that I've sent him?
Jayne:.....
Gozde: Jayne? Hello?
Error message: You can not send DMs to people who aren't following you
.
Just kidding!........The necklace wasn't heart shaped :)