ROBsessed Giveaway: Enter for a chance to win INNOCENCE for our Fiction Friday!
Hey Rob! Whatcha reading? Anything we can give away for FictionFriday??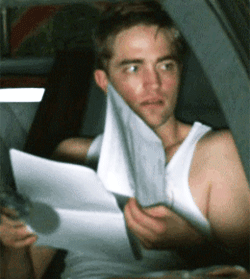 Well that's ok. He can just continue to sit there looking sexy and sweaty because we have a
worldwide
giveaway all set and ready for you guys! Please stop looking at Rob now and try to pay attention. I know it's hard. ;)
Like several other book giveaways we've done, INNOCENCE by Elise De Sallier originated as Twilight fanfiction and some of you might be familiar with
A Forbidden Love
. That story has been reworked and developed into a trilogy, with the first novel sweeping us away in the form of INNOCENCE. Here's the synopsis:
Ignorance is supposed to be bliss, but in Anneliese Barlow's experience, it leads to unwise choices and unnecessarily tragic outcomes . . . and there is nothing blissful about either.
Forced to flee her father's brutal heir, Anneliese masquerades as Lisa Brown, a servant, in the grand country mansion of the Duke of Worthington. Discovering the life of gentility she had known was a virtual fairytale, reality a dark and forbidding place, she faces danger at every turn.
Captivated by the beautiful maid, the Marquis of Marsden, decides the only way to keep Lisa safe is by offering her his protection. With all hopes of returning to her previous station lost, she surrenders her virtue to the man she has come to love.
Finding unexpected passion in Nathaniel's arms, her senses are awakened to a world of sensuality she'd not known existed . . . a world not without grave risks.
If her identity is uncovered, Lisa's innocence won't be the only thing that's lost.
Eeeeeep! I love a good Marquis throwing passion around. Take me away! In case you aren't familiar with our author of the week, here's a quick bio about Elise and her journey from fanfic to published author:
A great believer in living happily ever after, Elise began her lifelong obsession with the romance and paranormal genres when she was far too young to be reading either. After more than thirty years of marriage to her very own romantic hero, she now knows great relationships don't just happen, they take work . . . which doesn't mean writing about them can't be a whole lot of fun! While raising a family, Elise established a career as a counselor and family therapist. Seeking an escape from the stresses of her work, she discovered the world of fan fiction, and her timid writer's muse made its voice heard. Two point three million hits, twenty thousand reviews, and an e-mail from an acquisitions editor at The Writer's Coffee Shop later, and her life found a new and fascinating direction. Elise likes to see her characters grow, experience passion and adventure, tackle some difficult issues, and find lasting love . . . eventually.
If you'd like to purchase INNOCENCE ahead of the giveaway, you can find an Amazon link at the bottom of the post.
Giveaway guidelines:
You only have to click a button, which you'll see when you enter. Tweeting the giveaway through Rafflecopter is optional but gives you more chances to win as well as liking the Facebook page linked in the Rafflecopter.
Giveaway is WORLDWIDE
You MUST enter using Rafflecopter or your entry will not be counted

You can enter once a day, everyday, until the closing date - Friday, May 2 at 12am ET

There will be

2 winners

receiving the eBook, INNOCENCE by Elise De Sallier
Winners will be chosen by random.org and announced after May 2
Good luck!!!
a Rafflecopter giveaway
See the winner of FIX YOU and our fanfic of the moment after the cut!
A couple of weeks ago, we were giving away the book, FIX YOU, by Beck Anderson. We notified the winner and we'll actually be doing another giveaway for FIX YOU soon. :)
a Rafflecopter giveaway
Congratulations Karen! You should receive your prizes soon. :) And special thanks to April for donating the Robsessed DVD to the giveaway! You're a giver just like Rob. ;)
In my fanfic world, I'm still reading the WitFit by Rochelle Allison,
the bitter, the sweet
. I finished Stolen and loved it. It made me reread another favorite of mine from Rochelle - Air. And then I restarted ANOTHER fave, Brighter. LOL Love her stuff. I'll be on my umteenth reread of Starry Eyed Inside before I know it. I'm thinking of checking out My Ex-Con by counselor because it's got a gazillion chapters and should be finishing soon. What are you guys reading??
If you want to purchase any of the latest books featured in this post, click the Amazon links to buy now!