A huge thanks to Darja for scanning and translating these for us :))


OK! Germany:

Vampire Fever in Germany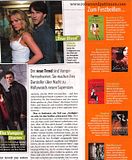 GALA Germany: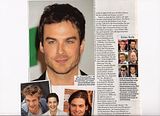 Generation Babyface




It used to be about man in Hollywood films: he had broad shoulders and strong arms and prominent chin and at the end he always got to be with the woman of his dreams. His name was George or Russel or Bruce. That kind of man is now OUT.




New models have soft hair, long lashes, blue eyes, gentle face and nose and soft jawline and they are young. Their names are Zac or Chase or Shia.(Gozde: Soft jawline? Are you crazy/blind?)


They can be action heroes like Shia in "Indiana Jones" or Kevin Zegers opposite Lee Majors in "The Story Of Bonnie and Clyde" or a vampire like Robert Pattinson in "Twilight".



Obrazi (Solvenia):




Robert Pattinson :
Seductive vampire's sleepover at lovely Emma?
The main question asked, while one of the hottest young actors was strutting the streets of NY was: where is he going and why is he carrying a sleeping bag? He is working around the clock for a whole year and his movie Twilight made unbelievable 351 mil. $, so recession can't be blamed for his financial status and he could definitely afford a hotel room in Manhattan.
Some considered the possibility that 23 year old visited colleague Emma Watson, who was promoting the latest Harry Potter movie in NY. But why Emma, you might ask.
Not long ago she revealed for one of the American gossip shows: he is a great guy and she is incredibly happy for his success and she hopes he is handling his fame successfully. Gossip magazines were hoping for something more, but there is only friendship between lovely 19 year old Emma and couple of years older Pattinson, who were costars in one of the Harry Potter movies.
So, where was good looking Pattinson headed to on a beautiful sunny afternoon with a sleeping bag under his arm? Was that Kristin Stewart, his costar from Twilight and the highly anticipated sequel New Moon, scheduled to hit movie theaters at the end of the year? No one knows exactly, what is going on between those two ( are they in love or not, is Kristen leaving her boyfriend?) and if they will finally become a couple in private life as well as on the big screen.
One thing is for sure: he didn't sleep over at Kristin, he was headed towards Remember Me film crew, a movie he is filming this month in NY. In the sleeping bag, only Emilie de Ravin ( Lost) might join him - or, in the worst case (well, it depends) charming Pierce Brosnan. They all star in the movie that will be in movie theatres at the beginning of next year.
Gozde: They wrote a nice story on the picture no? At least there are no lies.
I think (my alcohol induced) "
Robert Pattinson's Internal battle with the Sleeping Bag
" story was better than this one but I may be biased :))