Rounding up Robert Pattinson in all his King of Cannes glory!
Robert Pattinson is in everything. ~Vanity Fair
*and the crowd roars*
What else can you expect from the King of Cannes? I mean,
did we call this or what
! ALL HAIL THE KING!!!!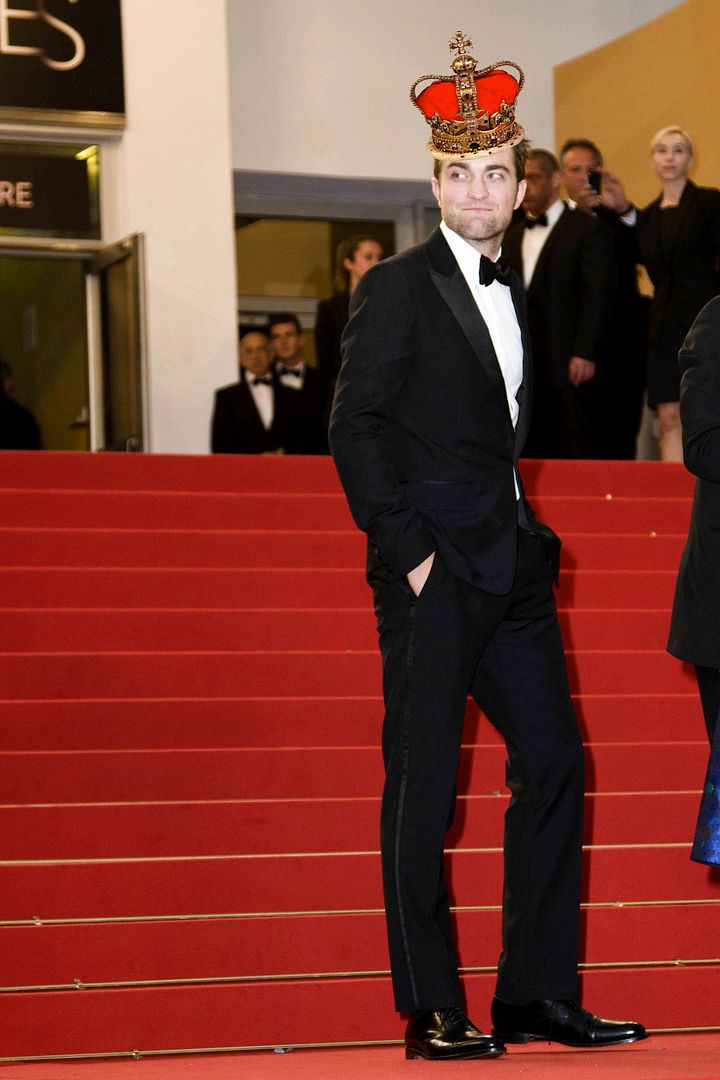 BOW DOWN TO YOUR KING!!!!
Ok......before I let my crazed fangirl completely out of the nuthouse, because I so can when it comes to Rob, let's check out a sampling of articles and tweets about
Maps To The Stars
and
The Rover
("
Rob's stellar performance
" EEEK!) from folks starting to realize, "Hey...that sparkly hunk of vampire manmeat...he's kind of a BFD post-Twilight...." Yeah. He is.
"Does Cannes want Pattinson walking the red carpet twice in a festival? You bet." ~
Thompson on Hollywood
"Robert Pattison, who might just become something of a Cannes regular if he keeps this up." ~
Indiewire
The Rover & Maps to the Stars among the
Buzziest Films Heading to This Year's Cannes Film Festival
..."Robert Pattinson, whose tuxedo-clad presence at the 2012 fest threatened to break the internet." ~
Yahoo
The Rover & Maps to the Stars among the
Most Exciting Movies At Cannes 2014 & the Croisette's finest.
~
Empire
The Rover & Maps to the Stars are "two films that I absolutely cannot wait to see." ~
We Got This Covered
Big names heading to Cannes and first name listed? "Robert Pattinson. The former
Twilight
star has been to Cannes before. He starred in David Cronenberg's drama
Cosmopolis
which premiered on the Croisette in 2012. Now, he's back with another Cronenberg title,
Map to the Stars
, and David Michôd's
The Rover
alongside Guy Pearce." ~
HitFix
"As if having one movie at Cannes wasn't enough, Pattinson also appears in "Maps to the Stars," the next film from his "Cosmopolis" director David Cronenberg." ~
MTV
"This year's line-up features two appearances from Robert Pattinson, who plays the lead role in Cronenberg's Hollywood satire Maps to the Stars. The Twilight actor also appears in The Rover, an Australian crime drama that will have a special midnight screening at this year's event." ~
BBC
"Cronenberg's "Maps to the Stars" and David Michod's midnight movie "The Rover," both of which star Robert Pattinson." ~
Variety
Click
HERE
for The Rover and
HERE
for Maps To The Stars if you want to read more praise we rounded up about Rob's upcoming films.
It's all lookin' gooooooooood. The tweets have been full of win as well.
Check out more KoC-esque goodness after the cut!
Prediction: THE ROVER is gonna take Robert Pattinson's career to the next level & put TWILIGHT firmly behind him... http://t.co/xTcJxuyD0y
— Jeff Sneider (@TheInSneider) April 17, 2014
Here we go again! #MTTS #MapsToTheStars #Cannes2014 #competition #tapisrouge #RedCarpet @Telefilm_Canada @eOnefilms pic.twitter.com/5fFFQnv3gO
— Martin Katz (@martinfkatz) April 17, 2014
Someone send me to #Cannes2014 so I can satisfy my craving for more Robert Pattinson. (Not a joke tweet.)
— Russell Hainline (@RussellHFilm) April 17, 2014
@TheInSneider Felt he took his first step with Cronenberg's COSMOPOLIS (2012). Very excited about this one as well. pic.twitter.com/IEochlne6o
— Robert Merk (@MerkRobert) April 18, 2014
I never realized how well Robert Pattinson is doing post-Twilight. Working with great filmmakers like Herzog & Cronenberg.
— Luke (@Luke662) April 17, 2014
@TheInSneider Have a friend who's seen the movie and he basically said the same thing. Pattinson's apparently really, really good in it.
— Ted Smith (@tdsmth) April 17, 2014
Looks like it will also be a historic year for films starring Robert Pattinson. Check out his new #Rover trailer: http://t.co/x1ZbKdpzlj
— ET Canada (@ETCanada) April 17, 2014
Brand New trailer for The Rover! #RobertPattinson like you've never seen him before! #Cannes2014 @TheRoverMovie http://t.co/iQrgNodnQl
— Curtis Brown Actors (@CBGActors) April 17, 2014
And can we take a moment to note that Mr. Pattinson has not one, but TWO, movies at Cannes this year! The Rover AND Maps to the Stars.
— Before the Dawn (@BTD_Podcast) April 17, 2014
And I must admit it excites me that Robert Pattinson has not one but two movies at #Cannes. I like this trend.
— Marina Antunes (@themarina) April 17, 2014
Ryan Gosling directs, Robert Pattinson is in everything, and more highlights of the 2014 Cannes lineup http://t.co/nNcQekOpQM
— VANITY FAIR (@VanityFair) April 17, 2014
Say hello to our new welcome marquee, now celebrating @TheRover's exciting Cannes announcement! pic.twitter.com/PgFw2MVwBy
— FilmNation (@filmnation) April 18, 2014
CANNES BABY!!!! Are you ready??? Can you handle it???