Wish He Was Mine Wednesday With Robert Pattinson
'Wish He Was Mine' this Wednesday is an oldie but a goodie. This Rob was sent in by so many of you and I had a feeling he would be high up on the list of favourites.
Ladies, I give to you grey hoodie Rob.Just don't stare into those eyes for too long because there's no coming back if you do.
Oh who am I kidding, we all want to drown in those eyes. To help you even further, here's a gorgeous wallpaper for you by Rainer.
Click & Click Download to Download the Full Size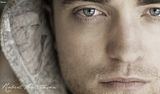 Today's post actually ties in quite nicely with Magical Monday this week.
If you missed it check it out
HERE