We never post NON-Robert Pattinson stuff but I'm making an exception because I'm truly very disheartened by the unfair replacement of Rachelle Lefevre.
HERE is a petition if you'd like to get involved.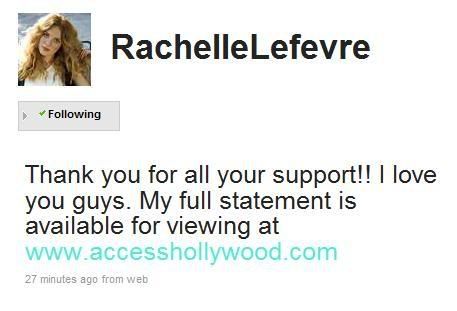 Rachelle Lefevre 'Stunned' Over 'Eclipse' Recasting
Rachelle Lefevre: "I am greatly saddened that I will not get to complete my portrayal of Victoria for the 'Twilight' audience. This is a story, a theatrical journey and a character that I truly love and about which I am very passionate. I will be forever grateful to the fan support and loyalty I've received since being cast for this role, and I am hurt deeply by Summit's surprising decision to move on without me. I wish the cast and crew of 'Eclipse' only the very best,"

You can read the rest of Rachelle's press release on Access Hollywood
.You can find Summit Entertainment's Press release #1
HERE
and their response after Rachelle's press release
HERE
.