Larger? Now you are just being over ambitious: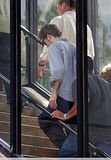 Check out Robert Pattinson Source for all the HQs :)

And now HQs of the smile: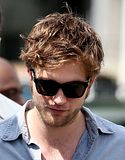 You can see more at Celebuzz.com



I have to post this comment from Christine because it gave me the funniest imagery of the day:



I can't believe he's taunting fate wearing pants that are falling off.





He trusts his bodyguards that they'll keep the fans away, isn't he?





All it takes is one fan, one dive, one grab onto pants during said dive and his hairy legs and boxers would be on view to the world.