Thanks to Splash News Online
for their coverage this week. For the following pictures they say:
Here's the latest pictures of Robert Pattinson and Emilie de Ravin on the set of 'Remember Me' in NYC.
Unlike yesterday there were no kissing scenes today.
which sounds like these pics are from today but I'm thinking they are from yesterday.
Check them out for a picture of Emilie
:)
I might be posting repeat pictures, I can't process this many photos :) It's been like Robistmas since yesterday ;) (And I would like to thank Mama and Papa P for naming their son with a name like Rob that is good for manupilation: Robward, Robvador, Robistmas, Robler (really? Are we calling him Robler now? ;))
Larger: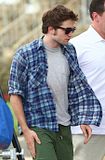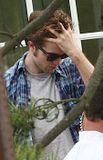 Thanks to Dayna for the tip :)