Thanks to Darja for sending us all these scans :))


Jolie Deutschland July 2001

The next 2 pages are not Rob but OH HOT DAMN! :)
Rob:
Sexy multi-talent
You know him... as Edward Cullen in Twilight. In Little Ashes (release date still unknown) he portraits painter Dali, nude scene included!
That's what he has to offer: superstar status! While auditioning for Harry Potter, the passive sportsman (23) still had to fib about loving soccer to get the role. By now, movie makers adore him (because he can convey tragic and depths to his characters), and so do the women (i.e. costar Nikki Reed and it-girl Paris Hilton). What makes him that extremely attractive? Fellow actor Ashley Greene puts it in a nutshell: "His shy demeanour is incredibly cute!"
Coolness factor: 10, because he could become the next Johnny Depp
Kellan:
Wild border crosser
You know him... as Emmett Cullen in Twilight and from the TV show 90210.
That's what he has to offer: an ideal body! "I like to push the envelope and I'm training very hard every day, because while shooting I want to do my own stunts", says the 24-year-old single (who can speak Spanish fluently). Not so much to the delight of the producers, who had to intervene several times during the shooting of Twilight to prevent the former student of engineering to break all his bones.
Coolness factor: 8, because he's an exciting dare-devil.
Liebling der Woche (Darling of the week):
When Robert Pattinson, 23, wanted to get into his car after a day of shooting Remember Me, he was quite surprised: fans had pinned little love letters to the doorknob. They surely are auto-graphs!
Thanks to Annik0r for the above translation ;))
OK Deutshcland June 25th 2009
LIEBLING DER WOCHE - so cute! + love notes!
Obrazi Slovenia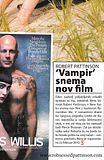 "Vampire" making new movie
One of the most popular young actors at the moment, Twilight star Robert Pattinson is shooting new movie Remember Me in New York. "Lost" beauty Emilie de Ravin is costarring, one of the roles will be played by Pierce Brosnan. Unfortunately female fans of sexy Robert will have to wait until 2010 for the premiere.
Obrazi = Faces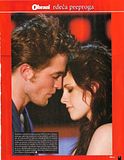 Red carpet
MTV MA is always a special kind of awards show, funnier than others and still prestigious. This year, all big movie industry's names were present, the winner was the Twilight movie crew, they won 5 awards, including the best movie ( in this category, they beat even Slumdog Millionaire) and best kiss between Robert Pattinson and Kristen Stewart (see photo)
Grazia UK: