Looks like the whole world is finally seeing what we've been saying all along. Robert Pattinson IS the Sexiest Man Alive according to readers of
UK's Glamour Magazine
. Rob is in good company with #2. Johnny Depp #3. Hugh Jackman #4. David Beckham #5. Brad Pitt rounding up the top 5.
Now what I would like to know is who in Glamour Magazine chose the pictures of Rob that went with the voting and the announcement. A jealous husband of a Robsessed woman?
In the first picture we have Rob looking really surprised to hear he was selected Sexiest Men Alive :
And in the second picture we have Rob at the Twilight Munich Premiere.
Tired, jet-lagged, unkempt and yet people still voted for him :)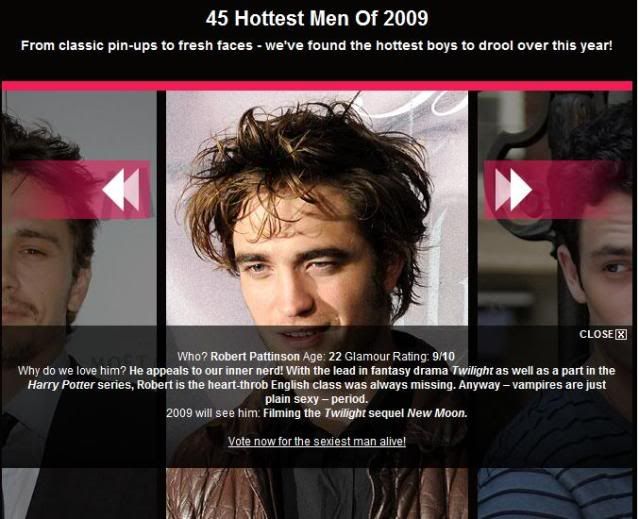 Seriously Glamour? We can post candids of Rob, you know from everyday life, that look better. And we will post it to celebrate his Sexiest Man Alive status. (

I've been trying to make this video for the past 5 hours and delaying this post but my computer, youtube, nothing is cooperating so I'll post the video later on today:((

)

And while I was making the video
Vampirefreak101's scan was posted on Thinking of Rob, here it is. Well, at least they chose a GREAT photo for the magazine :)