Did you just get on the site? Well Hello! Here is what you missed:
Robert Pattinson and Kristen Stewart were spotted at the Bobby Long concert in Los Angeles last night.
Our bitchin' blogger friend "The Moon is Down" from
Letters to Twilight/Rob
snapped a picture of them getting in a cab after the concert: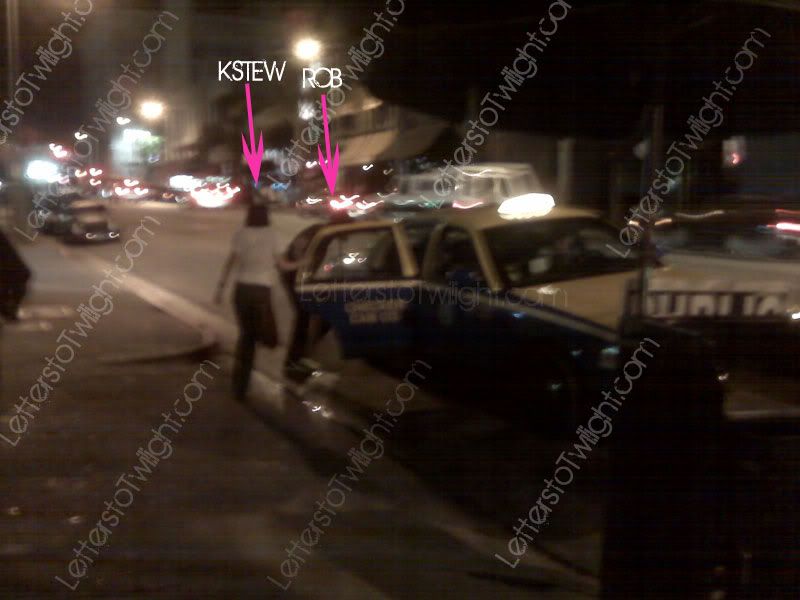 So here are the facts until now:
Last night Marcus Foster, Robert Pattinson and Kristen Stewart

went to the Bobby Long concert to have fun/support their friend.

While inside the 3 of them stood behind a curtain by the stage in a small space.


Kristen,Rob and Marcus left before the last song , got in a cab.

No PDA, no cuddling, nothing to celebrate or mourn over since he is not shagging me or you :))
Radar Online's story about Rob and Kristen spending the whole night at Chateau Marmont is a BIG LOAD OF CRAP. They claim they went into the room at 8:45 and never left :)) Pictures? We have the picture AND witnesses. Serious FAIL...

UPDATE:

Moon's Story can now be found on Radar Online. I don't know what to say. I stand behind the load of crap about Chateau, I'm sorry about the story being on Radar Online and I am chagrined by the last sentence in the story : So a little after 10:30 pm Rob and Kristen headed back to the Chateau as RadarOnline.com scooped.
Thanks to
@LilKel4 and @Hearts_Kaos
for filling in the blanks ;)