Or rather Robert Pattinson tweets and the fandom shakes :)
It did confirm 1 thing for sure : Robert Pattinson DOES NOT HAVE TWITTER...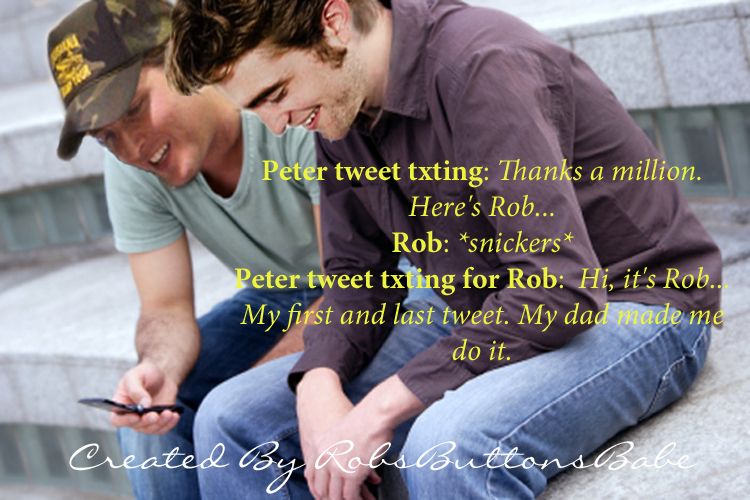 Thanks to
RobsButtonsBabe
for making the manip. It's very sweet :)
And since the "fan ractions" I posted seemed one sided last night (the reactions on twitter were %90 this way at the time) here are some other reactions :
pswlrw: I thought it was adorkably Rob, I thought it was lovely of Peter to make it happen.
Emily: I'm confused as to what people were expecting. I thought it was funny. "My dad made me do it."
rpattz-turns-me-on : Go Rob!! Love Ya. Omg iam so happy he tweeted,thank you peter :-) so happy right now.
Sadrilil: I actually loved it. Real or Fake I think PFach is a trustable guy and lets face it Rob is not a twitter kind of person otherwise he would have an account.. I love that he was what seems to be himself and blames "his dad" for making him do it.
Anna F: I don't see what's lame about that tweet, and I'm disappointed by all those negative reactions. Rob has always been quite random, and this tweet sort of represents his "what the hell can I say?" attitude very well, but in a sweet and funny way.I prefer that to some "thank you to all my fans for their support" or whatever of the kind.
Confessor: I thought it was kind of cute. I remember thinking that twitter was kind of lame (before my addiction to it) and that's about what I would have typed if someone made me do it.
sarabooluvsU: I think Rob's tweet was absolutly adorable and we all know that he doesnt like twitter so we are lucky he did it anyway! A true Rob fan would be happy with simply a "hi" from rob. So really guys, back off and be happy, I know I am :) (
Gozde: Most of the "positive" reactions were in this line.I guess I'm not a true fan :) Is there a certification program? I'd like to attend :)
)
And thanks to ADM for expressing what I couldn't: I do not think anyone is pissed by the tweet. I think everyone is confused by their own reaction. No one knew what to expect. It was short and cute. But, not what most thought it would be. Since no one knew what that would be in the first place.
Gozde: After sleeping on it, it IS very Rob like to tweet something like that. I'm gonna go with "shock" and "my Mediterranean blood" for my reaction. Moving on now :)
P.S.: For people asking how they can follow Peter Facinelli on twitter. Here are the accounts of the "confirmed" Twilight Cast Members. Just get a twitter account and follow them.
Peter Facinelli:
http://twitter.com/peterfacinelli
Jamie Bower:
http://twitter.com/Jamiebower
David Slade :
http://twitter.com/david_a_slade
Michael Sheen:
http://twitter.com/michaelsheen
Billy Burke:
http://twitter.com/billy_burke
Christian Serratos:
http://twitter.com/cserratos
Edi Gathegi:
http://twitter.com/iamedigathegi
Anna Kendrick:
http://twitter.com/AnnaKendrick47
Gil Birmingham:
http://twitter.com/gilbirmingham
Justin Chon:
http://twitter.com/justinchon
Jodelle Micah:
http://twitter.com/jodellemicah
Charlie Bewley:
http://twitter.com/alchemission